Management of Capital Equipment and Assets on an Estate Level
The Client can create an Estate that links different facilities or projects together which allows for transfer of assets between them including managing the assets across the entire estate. In addition, existing equipment can be accommodated in the planning of a project so that the planning can be comprehensive and the design will be inclusive of all products; while procurement will focus only on the new items. Clients can have hands on management of all assets in all facilities belonging to the same Estate including history of each item, current status per item, date put into service, validity of warranty and start date, estimated useful life, preventative maintenance schedules and asset management depreciation values.Even non-asset variables such as consumables and disposables per piece of equipment per space is captured and reported for operational planning and re-ordering.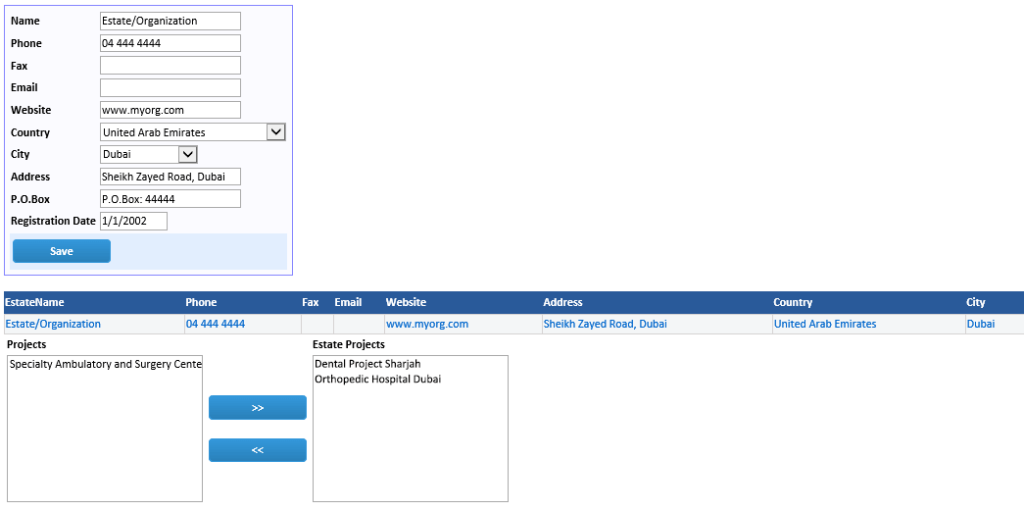 Simplicity in Planning
Planning has never been done easier and faster. Multiple people can plan a project at the same time. Rooms, departments and entire projects can be imported to the project in seconds and then modified. Typical rooms can be assigned very quickly. Templates are available and more can be populated to be exclusively owned by the user entity. Revisions are tracked and oversight is available by senior staff to ensure accuracy of the planning and consistency with the design drawings.

Integration with AutoCAD using Pequip Tools
The equipment planning module is not only integrated with AutoCAD whereby design drawings can be developed in a consistent manner with the planning, but also saves 70% of the time it usual take to produce coordinated drawings manually. Because the library and tables are housed in Pequip, reporting becomes much more comprehensive, consistent and accurate. The structure of Equip is completely compatible with BIM Revit which has been tested for integration and is under development. All components whether in our out of the scope of the equipment planner can be displayed in the design drawings thus providing complete coordination of work flow. Not only all plug-ins will be accounted for in the design and comprehensive room datasheets but also additional electromechanical services that are more related to the room requirements that are independent of the products.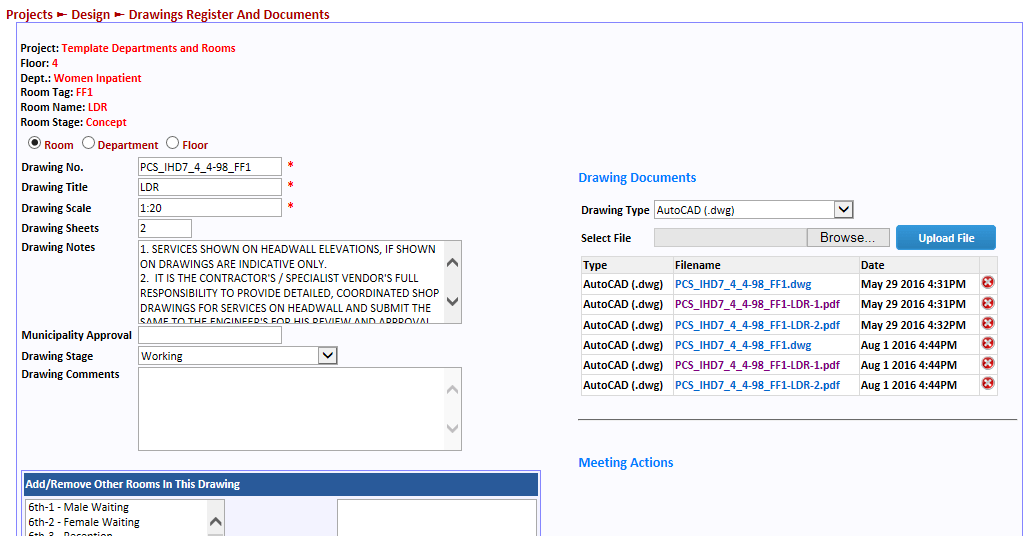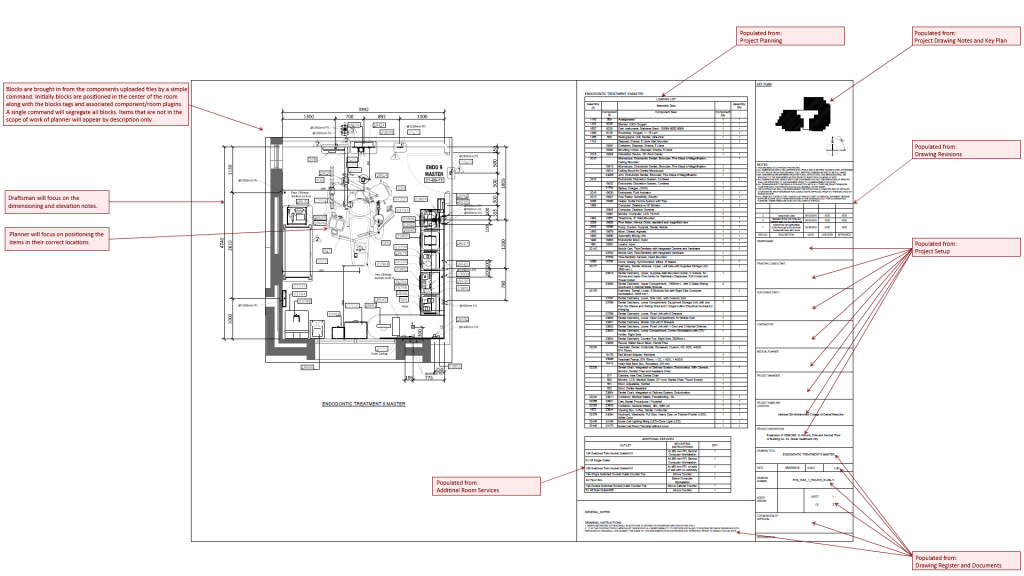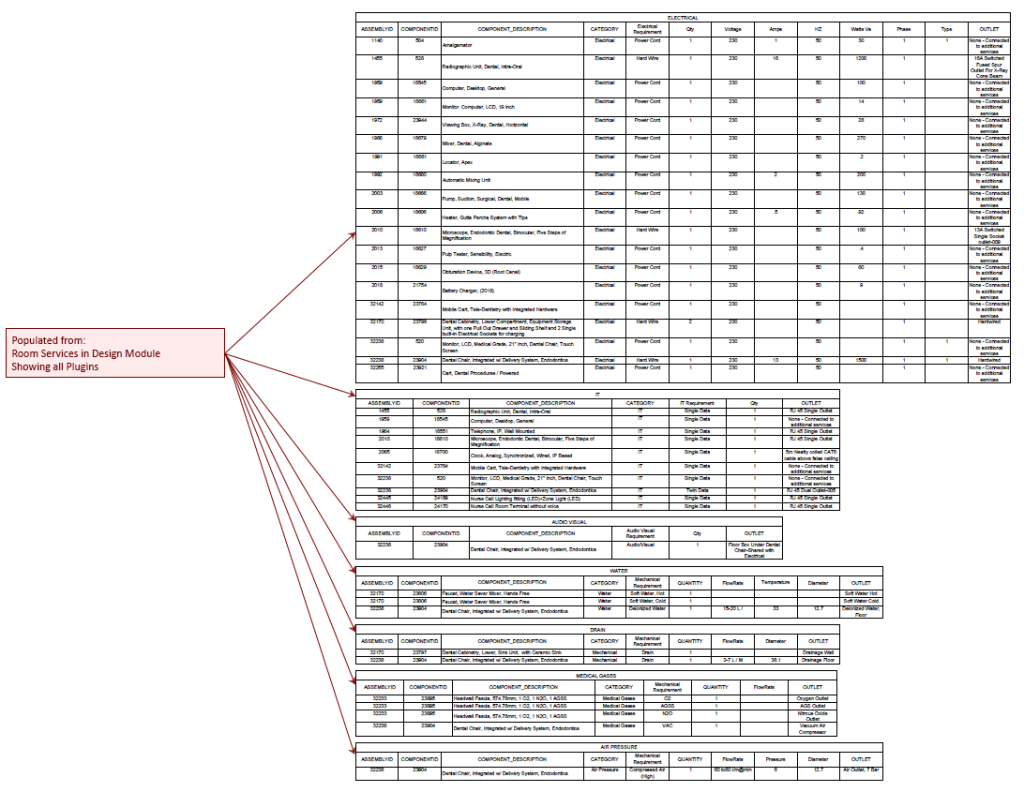 Accommodates Metric and Imperial Values
Pequip can be used by Consultants who base their design on not only metric but also imperial values. The conversion tables are built-in for dimensions and weight measurements. Unique descriptions can be assigned that will differentiate products between HTM and other standards because quantities can be assigned to medical gases per component.
Unique Identifier Numbers according to the Levels of Technology
Different item numbers will be automatically generated identifying low, medium and high technologies thus allowing for the assignment of different budgets and unique attributes for each level of technology per product including manufacturers' datasheets.
Incorporation of IT Integration Requirements
As more and more medical equipment becomes dependent on IT solutions and applications, Pequip incorporates all IT and audiovisual integration & connectivity requirements which would be embedded in each component for not just reporting purposes but also in the specifications for exporting to the design drawings.
Quantification of Services
Electromechanical, IT and audiovisual requirements per component are quantified thus providing valuable tools to the architects and engineers in knowing the exact requirement per space, department, floor and the entire project. For example, power consumption can now be calculated in the program rather than from the design drawings or manually.Civil, structural, or weight requirements are documented in specific instructions for design comments in the database and on the drawings.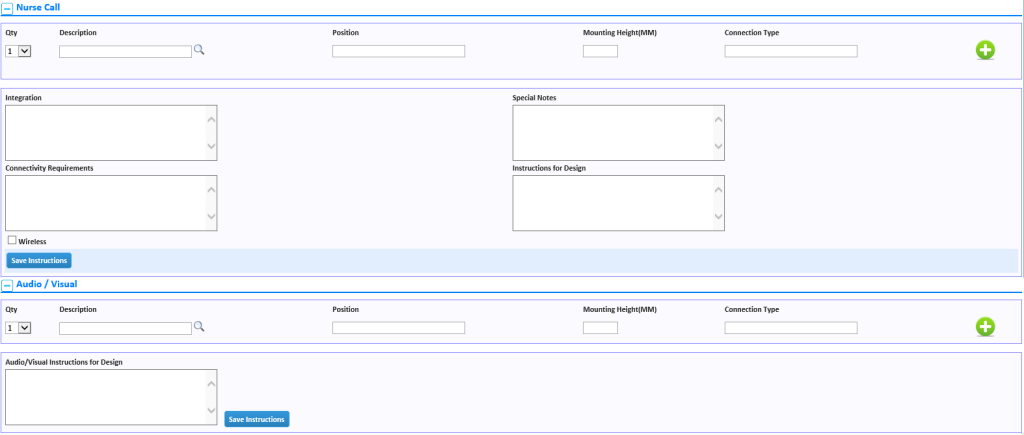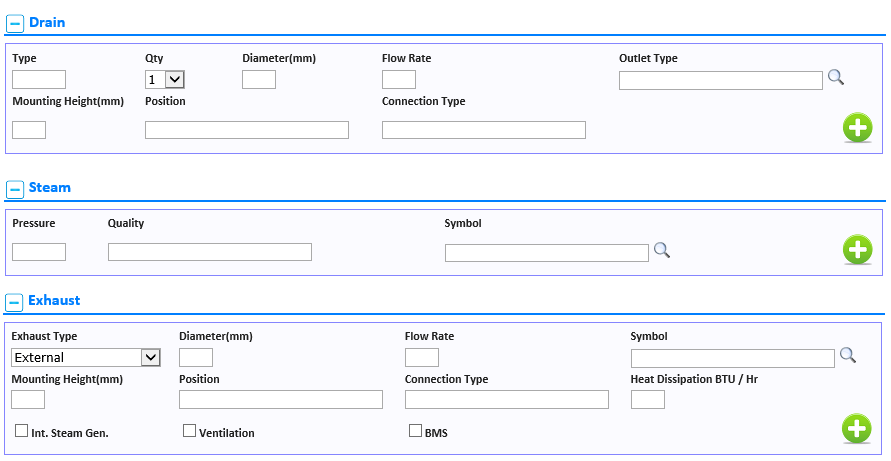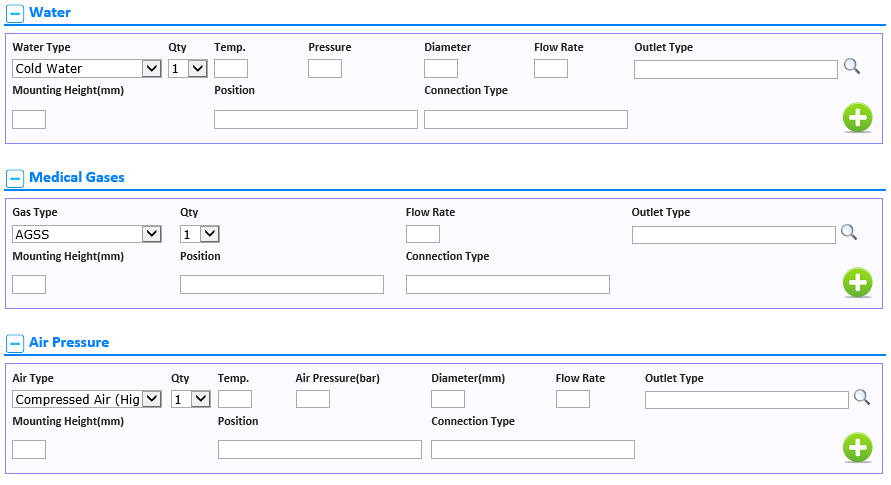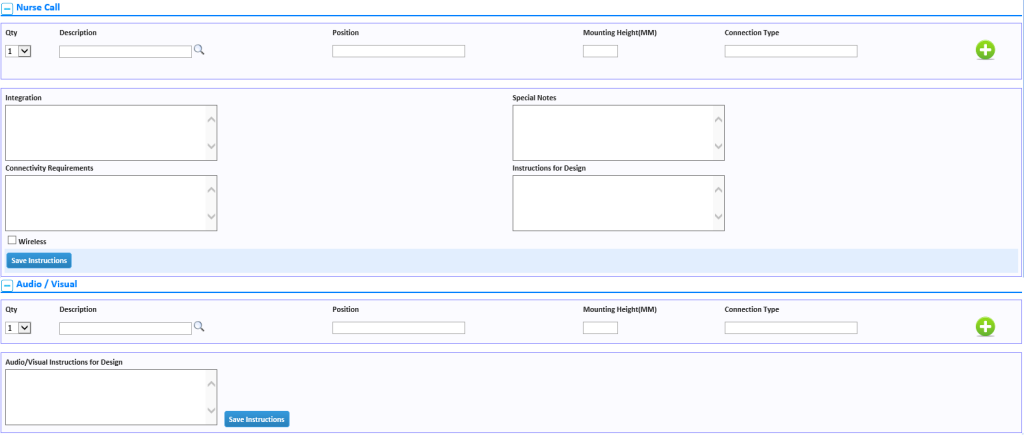 Importation of data to facilitate utilization of post design modules
Some Clients may wish to only utilize and benefit from using Pequip Project Management, Specifications, e-Tendering, Tender Evaluation, e-Procurement, Execution, and Asset Management Module while maintaining the original third party independent AutoCAD or REVIT design. Pequip has a table in the Admin Module where the original Consultant's item numbers will be cross referenced against Pequip's database item numbers. An Excel type table is available to import all departments and rooms to the Pequip project database once a new project is manually set-up in the Project Management Module. Another Excel table is available to import new assemblies and components along with their attributes directly to the Products Management Module. Once these tables are completed, the users can attach all Excel tables for the original room equipment list using the original item numbers in a table format available in the Admin Module. The System Administrator can then execute the importation of all information into the P Equip databases and the users will be able to proceed utilizing all other modules including printing all reports that will show the original Consultant's ID numbers.
Procurement through Tendering, RFQ's, Direct Awards, and Packaging in Delivery Phases
Pequip is flexible to enable procurement based on Tenders, Requests for Quotations (RFQ's) and Direct Awards. Tenders can be assigned into packages accommodating deliveries up to three phases and dates. Packaging qualifies inviting only vendors who specialize in certain categories of products to participate in specific tenders in order to ensure the delivery of the best products at the best price and with the best services. Phasing allows for prioritizing shipments according to each project schedule and requirements.
Online Vendors Portal
Vendors can efficiently and accurately complete and submit all technical and financial offers in addition to company profiles online by using the dedicated Vendors Portal. Bidders will not attach offers but rather complete all compliance statements line by line online which will expedite the evaluation process and ensure accuracy. The same portal facilitates submission of materials approvals, shop drawings, purchase order acceptance as well as many other functions.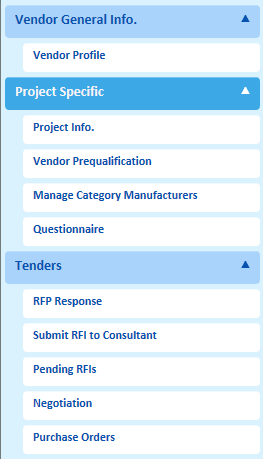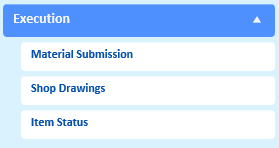 Online Proposals Evaluations
Tenders technical evaluations are performed on-line by an unlimited number of evaluators working simultaneously and affording the Clients the right to validate the process thus saving time and ensuring objectivity and transparency. Financial evaluations address each components cost, all associated standard and optional Options, Accessories, Consumables, Disposables, and spare parts. Freight, customs, storage and other costs can be separated from the unit cost in order to allow clients to consolidate shipments and save money. They system will automatically calculate results and recommend the procurement according to the best value for the money. Tender evaluations are performed in a strict confidential manner and only authorized users will have access to financial information. Evaluators of technical offers will provide specifications compliance percentages and comments and will not have access to scoring in order to maintain objectivity.
Manufacturers Portal
Manufacturers can upload all catalogues, cut sheets, marketing material, AutoCAD blocks, REVIT models, and other documents online using the Manufacturers' Portal which will then be linked with specific products categories and sub-categories. Pequip is manufacturer neutral and thus providing products data is not restricted. Users will benefit from viewing different products and comparisons available from multiple sources in order ascertain the most suited technologies for their projects. Manufacturers must register as users in order to provide permissions to the Clients to include their products data in their manufacturers' database.
Flexibility in Basis of Design or Generic Specifications
While specifications can be developed to be predominantly generic in nature to apply to multiple manufacturers, Pequip can accommodate international practices in basing the design on specific preselected manufacturers. The Specifications can be generated in one mouse click that would populate data from different section thus creating a comprehensive document including electromechanical requirements, IT Integration, warranties, manufacturers, options and accessories and physical characteristics, etc. Specifications can be customized for each project and published in different formats such as CSI.
Flexible in Budgeting By Stage Capturing CAPEX and OPEX
The budgets can be adjusted for each stage of the project (Concept, Preliminary Planning, Detailed Planning, Tendering, and Post Tendering). Cost calculation and control is comprehensive to capture both CAPEX and OPEX which include the cost of goods X-Factory, the cost of freight and customs independently, warranty cost, the cost of assets that are standard options as well as the cost of consumables and disposable.
Online e-Procurement
Generating purchase orders is automated once negotiations and final selection using Pequip e-Procurement module. The program captures all warranty, all options and accessories, all delivery times by phase, all shop drawings requirements, all freight and other details; and documents them is the purchase order which will translate to ordering and installing the right product at the right time and the right price.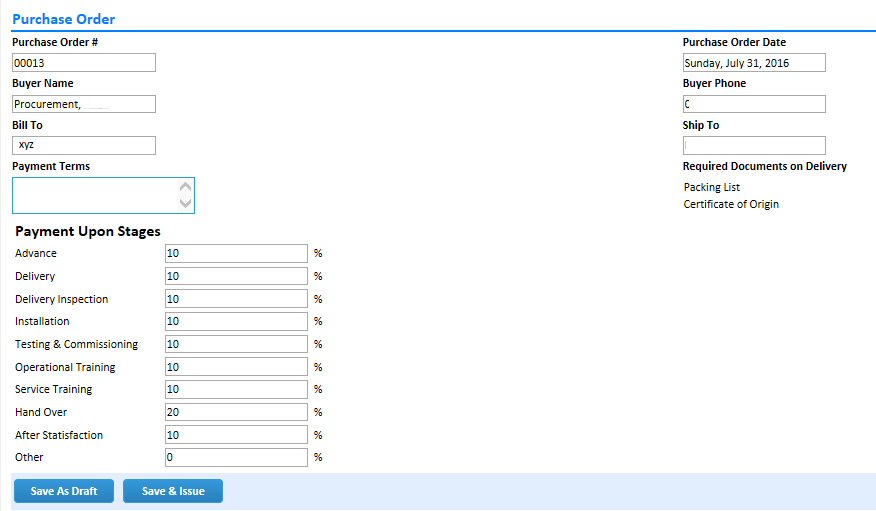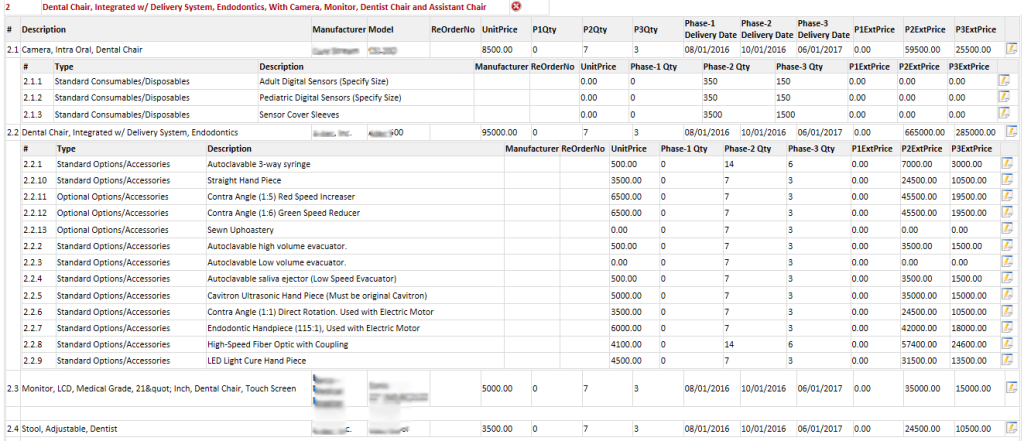 Complete Management of the Projects Execution Stage
Pequip is the first program to integrate the procurement function with the execution stage of the project so that materials approval, shop drawings submittals, receiving and inspection functions, product installation and commissioning and hand over can be performed online in a very consistent, scientific and accurate manner. The Execution Module enables proper activation of the building because all of the work is monitored and recorded via wireless and mobile devices that address site coordination, tracking of deliveries, updating rooms' readiness status, and performing online documentation of the execution functions; all on a single cloud based platform.
Immediate Identification of Items Status
Because of the way the Pequip program is design and the relationships created between multiple tables covering all stages of the project, identifying the status of a particular item, multiple items, or rooms on a given date is now possible on a live portal as well as on queries that can be printed.
Built-In Comprehensive Document Control System
Pequip has a built in document management system that covers different stages of the project. Utilities include managing minutes of meetings to creating actions that must be implemented by the planners; tracking all changes in the planning and design drawings; initiating documents transmittals via auto generated emails; and identifying the status of the project during every stage.